Manual | Technical Resources | PFXSP5600TPD Datasheet | PFXSP5B10 Datasheet | Software | Certifications | SP5000 Flyer
Display Specifications
Display Type
TFT Color LCD
Display Size
12.1"
Resolution
1,024 x 768 pixels (XGA)
Auto Scaling
Yes
Effective Display Area
W245.76 x H184.32 mm
(W9.68 x H7.26 in.)
Display Colors
16 million colors
For details about Display Colors, refer to the manual for your screen editing software.
Backlight
White LED
(Not user replaceable. When replacement is required, contact your local distributor.)
Backlight Service Life
50,000 hours or more (continuos operation at 25 °C [77 °F]
before backlight brightness decreases to 50%
Brightness Control
0 to 100 (Adjusted with touch panel or software)
Brightness Sensor
Yes
Touch
Panel
Type
Resistive Film (analog, multi-touch)
Resolution
1,024 x 1,024
Service Life
1 million times or more
Electrical Specifications
Power
Supply
Rated Input Voltage
12 to 24 Vdc
Input Voltage Limits
10.8 to 28.8 Vdc
Voltage Drop
12 Vdc: 1.25 ms or less
24 Vdc: 5 ms or less
Power Consumption
(Primary Power Supply
[including power loss])
Max. 56 W
In-Rush Current
30 A or less
Voltage Endurance
1,000 Vac, 20 mA for 1 minute (between charging and FG terminals)
Insulation Resistance
500 Vdc, 10 MΩ or more (between charging and FG terminals)
Environmental Specifications
International
Safety Standard
Physical
Environmen
Surrounding
Air Temperature
0 to 60 °C (32 to 140 °F)
Storage Temperature
-20 to 60 °C (-4 to 140 °F)
Surrounding Air and
Storage Humidity
10% to 90% RH (Non condensing, wet bulb temperature
39 °C [102.2 °F] or less)
Dust
0.1 mg/m3 (10-7 oz/ft3) or less (non-conductive levels)
Pollution Degree
For use in Pollution Degree 2 environment
Corrosive Gases
Free of corrosive gases
Atmospheric Pressure
(Operating Altitude)
800 to 1,114 hPa (2,000 m [6,561 ft] or lower)
Mechanical
Environment
Vibration
Resistance
IEC/EN 61131-2 compliant
5 to 9 Hz Single amplitude 3.5 mm (0.14 in.)
9 to 150 Hz Fixed acceleration: 9.8 m/s2
X, Y, Z directions for 10 cycles (approx. 100 min.)
Shock Resistance
IEC/EN 61131-2 compliant
147 m/s2, X, Y, Z directions for 3 times
Electrical
Environment
Noise Immunity
Noise Voltage: 1,000 Vp-p
Pulse Duration: 1 μs
Rise Time: 1 ns
(via noise simulator)
Electrostatic
Discharge Immunity
Contact Discharge Method: 6 kV (IEC/EN 61000-4-2 Level 3)
Memory
Application Memory
Screen Size: 64MB *SD card
Free Space: None
Backup Memory
NVRAM 320 KB
Control Memory
64KB
Interface Specifications (Display)
USB
(Type A)
Interface


*2

Connector
USB 2.0 (Type A) x 1
Power Supply Voltage
5 Vdc ±5%
Maximum Current
Supplied
500 mA
Maximum Transmission
Distance
5 m (16.4 ft)
USB
(mini-B)
Interface


*2

Connector
USB 2.0 (mini-B) x 1
Maximum Transmission
Distance
5 m (16.4 ft)
Interface Specifications (Box Module)
Serial
Interface
COM1
Asynchronous
Transmission
RS-232C/422/485
Data Length
7 or 8 bits
Stop Bit
1 or 2 bits
Parity
None, odd, or even
Data Transmission
Speed
2,400 (1,200) to 115,200 bps
Connector
D-Sub 9 pin (plug)
Serial
Interface
COM2
Asynchronous
Transmission
RS-232C/422/485
Data Length
7 or 8 bits
Stop Bit
1 or 2 bits
Parity
None, odd, or even
Data Transmission
Speed
2,400 (1,200) to 115,200 bps,
187,500 bps (MPI)
Connector
D-Sub 9 pin (plug)
USB
(Type A)
Interface
Connector
USB 2.0 (Type A) x 2
Power Supply
Voltage
5 Vdc ±5%
Maximum Current
Supplied
500 mA/port
Maximum Transmission
Distance
5 m (16.4 ft)
USB
(mini-B)
Interface
Connector
USB 2.0 (mini-B) x 1
Maximum Transmission
Distance
5 m (16.4 ft)
Ethernet
Interface
Standard
IEEE802.3i/IEEE802.3u/IEEE802.3ab,
10BASE-T/100BASE-TX/1000BASE-T
Connector
Modular jack (RJ-45) x 2
SD Card
Interface
SD Card
SD Card Slot (System) x 1
SD Card Slot (Storage) x 1
CFast Card
Interface
CFast Card
-
Expansion
Unit Interface
Expansion Unit
Fieldbus Unit x 1
Video
Interface
DVI-D
-
Connector
-
Sound Input
Interface
Sound Input
-
Connector
-
Sound Output
Interface
Speaker Output
300 mW (Rated Load: 8 Ω,
Frequency: 1 kHz)
LINE Output
Rated load: 10 kΩ or more
Connector
2-piece terminal block (AUX) x 1
AUX Output
Interface
AUX Output
Alarm Output/Buzzer Output
Rated Voltage
24 Vdc
Rated Current
50 mA or less
Connector
2-piece terminal block (AUX) x 1
Structural Specifications
Grounding
Functional grounding: Grounding resistance of 100 Ω, 2 mm2 (AWG 14) or thicker wire,
or your country's applicable standard (same for FG and SG terminals).
Cooling Method
Natural air circulation
Structure

*3

When using a factory-installed front USB cover: IP65F, IP67F.
When using a front USB cover as an option: IP66F, IP67F, Type 4X (Indoor Use Only)/13
* The front face of this product when properly installed in an enclosure and
not using the front panel USB port.
NOTE: The option is a front USB cover with screw manufactured by Pro-face
(Model Number PFXZCDCVUS1).
External
Dimensions(Display)
W315 x H241 x D67 mm (W12.4 x H9.49 x D2.64 in.)
External
Dimensions(Box Module)
W188 x H131 x D45 mm (W7.4 x H5.16 x D1.77 in.)
Panel Cut
Dimensions
W301.5 x H227.5 mm (W11.87 x H8.96 in.)

*4


Panel thickness area: 1.6 to 5 mm (0.06 to 0.2 in.)

*5

Weight

*6

4.1 kg (9.08 lb) or less
External Dimensions
Display
Box Module
Display module and box module combination
Panel Cut-out Dimensions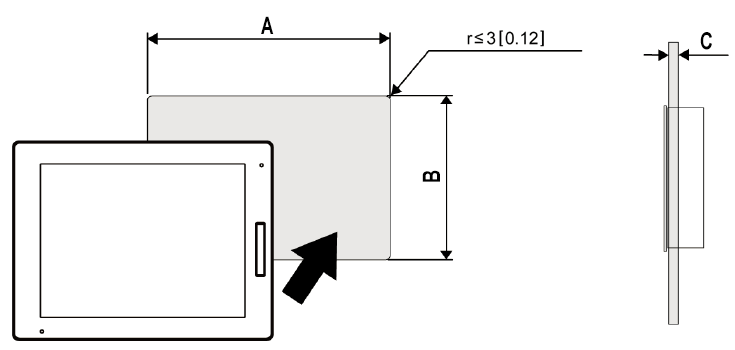 Model Name
A
B
C
SP-5600TP
301.5 (+1/-0)
[11.87 (+0.04/-0)]
227.5 (+1/-0)
[8.96 (+0.04/-0)]
1.6 to 5
[0.06 to 0.2]
External Dimensions with cables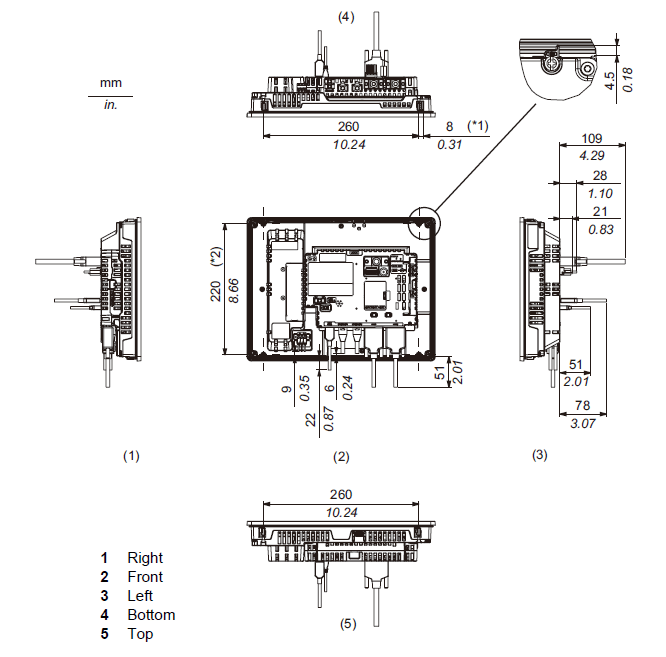 (Image of Open Box)

*1 Rotation area of the fastener
*2 Pitch of center of installation fastener screws
To hide front USB cover with overlay prevents from using a USB interface.

When using the Display Module with the Power Box, you can connect only one of each type of USB device, such as one USB flash drive, one transfer cable, or one bar code reader. If you connect multiple devices that are the same type, only the first device will work.

The front face of this product, installed in a solid panel, has been tested using conditions equivalent to the standards shown in the specification.

For dimensional tolerance, everything +1/-0 mm (+0.04/-0 in.) and R in angle are below R3 (R0.12 in.)

Even if the installation wall thickness is within the recommended range for the "Panel Cut Dimensions", depending on wall's material, size, and installation location of this product and other devices, the installation wall could warp. To prevent warping, the installation surface may need to be strengthened.

The weight for the combined unit of Box Module and Display Module equals the sum of the weight for the Modules.